E series has the advantages of high precision, high reliability, energy-saving, clean, low noise, etc. It is high performance in new times. It is the best choice for the packaged beverage and food industry with high quality and high value-added.
Energy-saving; Precision and Stable; Clean and Low Noise.

Low Energy; Low Maintenance; Low Wear; Low Pollution.

Quick Install ; Quick Produce.

Easy for operation and maintenance.

Output :1800-13000 BPH; Number of cavity: 2-10.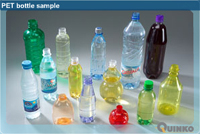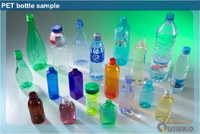 FEATURES
◇ Multiple protection devices for ensuring preform feeding and ejecting unqualified preforms
◇ Continuous preform feeding system
◇ Linear construction transports preform for heating and bottle forming
◇ Fully-electric mechanism to ensure high-speed operation and precise locating
◇ Modular design facilitates maintenance
◇ Save investment and enhance competition
◇ Upgrade power efficiency
◇ Simplified operation by MMI control panel
◇ Air recovery System
◇ Output will be improved 30-35% per unit time
◇ Power consumption will be saved 5-10%,air consumption will be saved 20-25%
◇ lower energy consumption, lower wearing and pollution